Tone of voice, the impact of a clear voice for your business
4

minutes
Thinking about the how and why of your communication is not a standard practice, even for most brands. Perhaps that's precisely why it is all the more interesting to explore the questions below which lead to a supportive, enlightening and essential voice for your brand.
The first encounter; what's a tone of voice?
Your tone of voice is the reflection of who you are as a brand and what you represent as a company. It surpasses even the greatest copywriting and conveys the unique character and values of your brand, both in written and spoken form. This emphasis on the context and the way you communicate something is very important, because ultimately it relates to the impression you make on everyone in your audience who reads or hears about you. Its aim? To use language to give your communication its own, distinct and recognisable brand voice.
You will most likely notice that Côte d'Or has a very different feel to Tony's Chocolonely. This is, for example, a splendid insight into what a voice – after a while – can establish.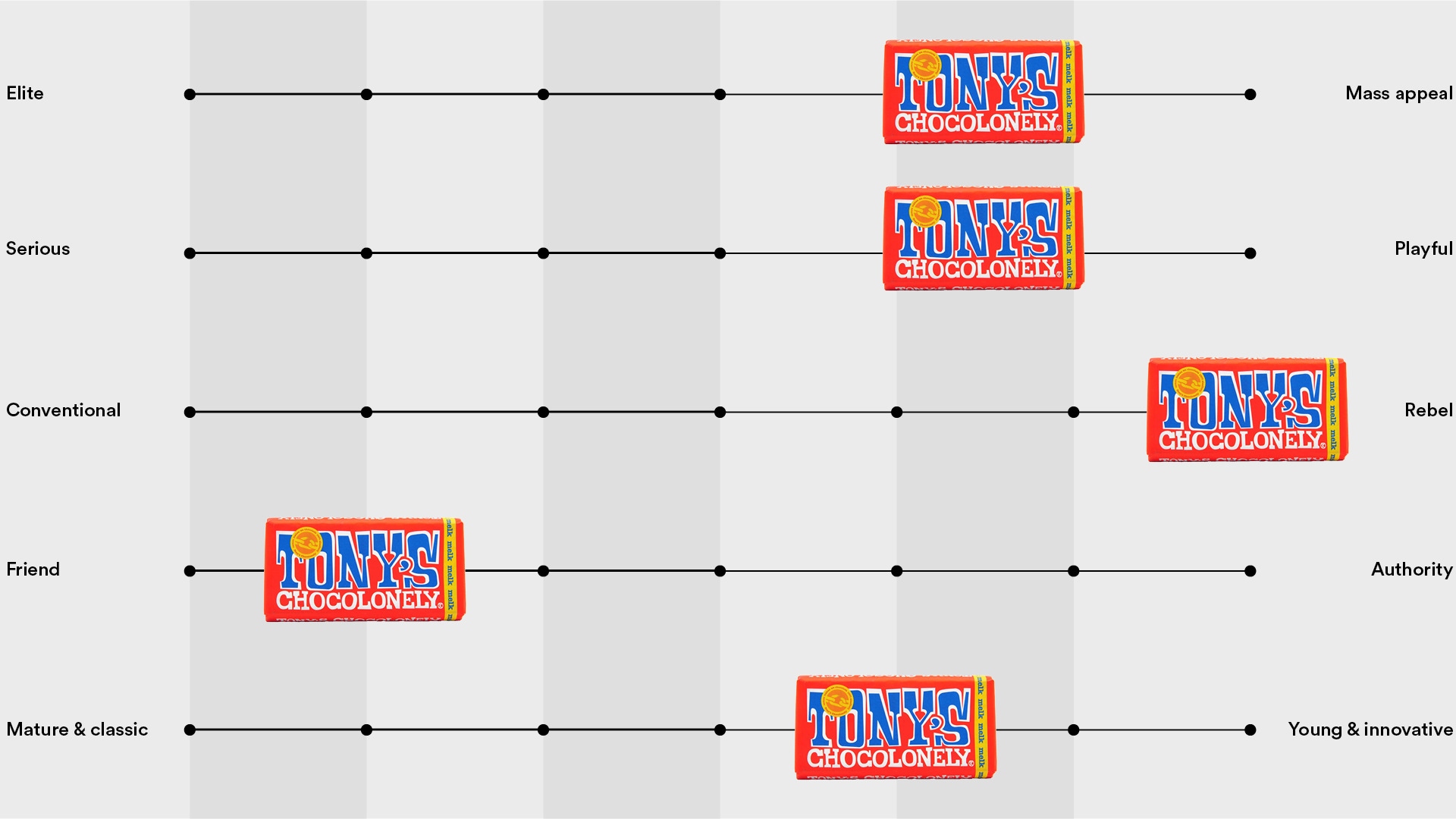 Why does it matter?
Even if you offer exactly the same product or service, a difference in voice can make it feel poles apart. That's because your tone of voice influences the target audience's impression of your brand. So, to avoid a fuzzy or an indistinct character, it is best to make heads or tails of it.
First, you have to understand that you read something on two levels:
Analytical: the facts found in the copy tell the analytical side of your brain what the company does
Creatively: the clever things done with the text set the tone and tell you what it would be like to interact with the brand
In addition to the necessary information that you want to share (analytical), you can create an atmosphere that can build, support and sustain a bond with the target group through the inventive use of words (creatively). Because that connection can be the decisive factor your brand and a competitor. Worthwhile, right?
1. Deepen the connection with your target group
Customers are more likely to emotionally connect with a brand that uses a positive tone of voice. Why? Because it makes them feel that the company cares about them.
2. Set yourself apart from your competitors
Brands with a distinctive tone of voice are more likely to remain competitive and stand out in the crowded market. That's because tone of voice plays an important role in memorable content, a distinctive personality and compelling storytelling.
3. Leap forward in terms of revenue
By showcasing your business in a consistent and unique way, you will avoid confusion and achieve better business results.
Where to begin?
It all starts with the obvious but easily overlooked question: what is the why of your company? Only when you have determined your company's core purpose, personality and corresponding values, can you start building your tone of voice. This does not happen overnight. The set of core values is defined through in-depth workshops and research to make sure you are setting the right tone. It has to stem from who you are as a company and how you want to come across to your target audience(s).
Who is at the other end of the line?
Without keeping one eye on the sender, a message may fail to convey itself properly. Once you have a well-defined audience, you can fine-tune the tone of voice you have selected. This way, you create messages that stick positively with the correct recipients.
Ready to make your voice heard and achieve business success simultaneously?
Splendid news! If you want help with that, you can always reach out to us. We'll help you define your brand identity during one of our bespoke workshops.
Ready for even more insights?