Emma's Kitchen
A fresh take on fast food
Food & Drink
branding
Why serve 'kee-no-ah' instead of 'puh-tay-toe'? Because quinoa is significantly richer in nutritional value than our beloved potato. At least one thing we learned from collaborating with Emma's Kitchen, a new healthy fast food restaurant in downtown Antwerp. They only use crisp and natural ingredients from the morning market to whip up mouth-watering lunches and dinners à la minute. Our hand-drawn designs took a little longer to prepare. Fancy a fresh take on fast food?
Emma's story is no baloney
Eating healthy doesn't necessarily mean you can't simply enjoy your meal. It's all about balance. At Emma's Kitchen they have figured out how to make 'quick' and 'quality' go together. They do the analysing, pairing and cooking for you: just order, taste the goodness and share those #omnomnom pictures.
Eat good, feel good
Emma's Kitchen is a place you can call home. Vibrant and bright colours reflect the uplifting attitude that is essential to the atmosphere we want to create. Emma is as direct as a chef should be, but without the shouting or throwing knives. She adds a touch of happiness in communicating to and interacting with customers. Sometimes tongue-in-cheek; always sincere and positive.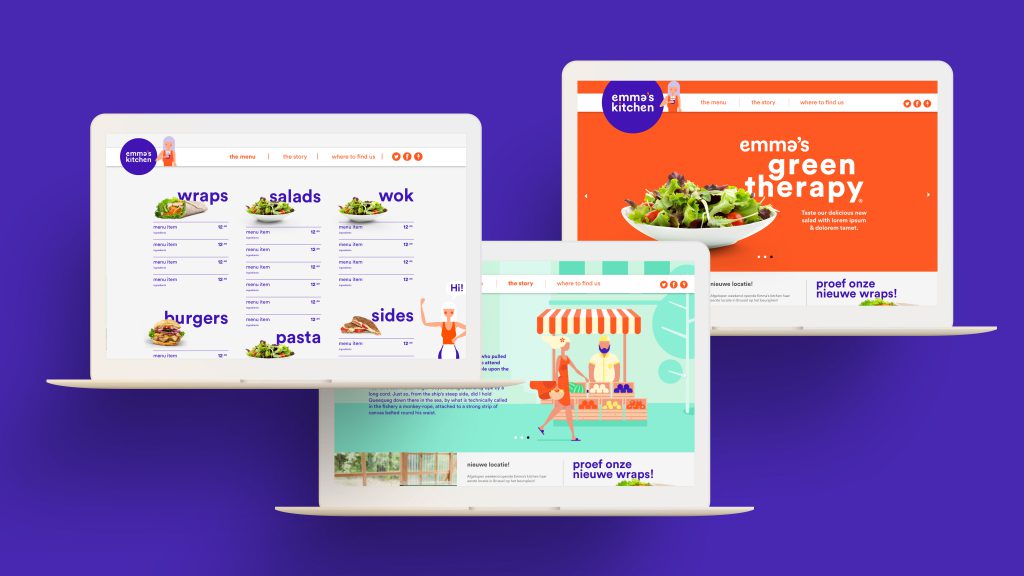 Get in touch
Become who you are. Use this contact form to shift and shape your brand – or, at least, to get a decent cup of coffee and an equally warm welcome.
Thank you for sharing your question